VOTE DEMOCRAT -- I CHOOSE OBAMA!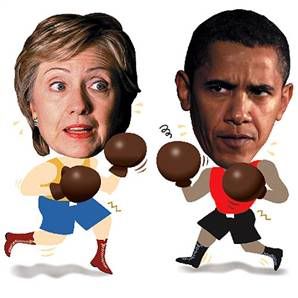 MY
VOTE
GOES TO
Since Edwards dropped out of the race, that left Hillary and Obama to choose from. I choose Barack Obama, and here's why.

First and foremost, if we're looking for a change in this country, which we sure do need, she isn't change. She's status quo. Granted she's a Democrat, and if she winds up legitimately being the nominee by honest means, I'll support her. But she was for the war for a long time. She won't commit to bringing home ALL the troops. Besides, it's time we have fresh blood in the White House! The Clintons and the Bushes had dominated the "ruling" dynasties for far too long. If Hillary winds up being the nominee by stealing the election by only superdelegates or playing that childish cheating game of trying to count Florida and Michigan, then I guess I just won't vote!

Second, I think Obama will go very far in bringing back honor to this country and restoring world opinion. I think he will also go far in blending at least some of the radical ends of the parties into a cohesive unit; though granted, there will always be those on the both extreme ends of the political spectrum.

Third, I think Obama has a vision for the country that far exceeds the others. The others are all stuck in the quagmire of "now" and "now" isn't working. He isn't just talk of "hope," though that is nice to hear -- but he has plans that would be good for this country - besides bringing the troops home, he has definite plans for the economy, our infastructure, education, health care, even the treaties with the Indians and their problems. He's against NAFTA, which Hillary and Bill set into play -- and NAFTA leads to NWO. Will he get everything he wants? No. But it's a darn good start! And I have no doubt it won't be his fault if we don't get it all!

Fourth, to the nay-sayers who are soooo freakin' worried about his "Muslim" background or his name. Give it up, for God's sake!! I don't know what influence if any his Muslim background played in the formation of his opinions and beliefs. But he's not a terrorist!! Why do people continue to equate "Muslim" to "terrorist"? That's totally ignorant and biased, prejudiced, and narrow-minded. He is a Christian. But just give this some thought --- IF he had some exposure to Islam, then just maybe he might have a better understanding of their views and can help bring about peace in that part of the world. But if you're worried about his allegience to Israel, his words to the Haaretz,
"My view is that the United States' special relationship with Israel obligates us to be helpful to them in the search for credible partners with whom they can make peace, while also supporting Israel in defending itself against enemies sworn to its destruction."

Fifth, his name -- get real. All I know to say to that argument, or justification as to why he should not be the Democratic candidate because of his name, much less President, is to just say simply -- GROW UP!!! I suppose by that thinking, after this regime of George Bush, with all his war crimes, immeasurable blood on his hands, ruination of our country in every area imanginable -- by the mentality of a prejudice against names, then by all rights, the name "George" should never, ever be used again!!

Sixth -- last but not least,
HE CAN HANDILY BEAT McCAIN!! Hillary cannot!!
She is too devisive!! Even moderate Republicans and Independents are falling into Obama's camp. They would never line up behind Hillary. If McCain wins, we are truly doomed to more of the same. It is said that McCain will be in effect a 3rd term for Bush. Listen to his platform! He's full of praises to Bush and continuing on with everything Bush is doing. He even said he would like to keep Robert Gates on as Sec of Defense! McCain will only advance the ruination of this country that Bush has set into motion -- and might I had, has done a damn good job of it!
One thing that helped me make a comfortable move to Barack was his "Yes We Can" Speech that he gave when he won New Hampshire. What a speech it was! It should go down listed among the greatest speeches ever.

If you've never "really" listened to it, here it is. You owe it to yourself to spend 13 minutes and really listen!

America needs Barack Obama!
He is, indeed, this country's only hope --
at least in this election! We've deterorated so much now that I worry it can't be fully restored. But if things continue on the present course, we
WILL REACH THE POINT OF NO RETURN!
And PS -- in the event Edwards winds up endorsing HIllary, then I sure will be disappointed in him and will never support him again! In my mind, that would only mark him as a sell-out, just like the rest of them! I can only hope that his integrity will prevent him from succumbing to backroom deals.
Labels: 2008 campaign, Barack Obama, Hillary Clinton